Learn three easy ways how-to edge log furniture with tools you probably already have, because rustic log furniture is all about those curves.
There will be times while making log furniture you will need to know how-to create different looking edges. Uniquely different looks are always simple to achieve when you know these Three Easy Ways How-to Edge Log Furniture.
Every time you pick up and move a piece of wood you have time invested in that piece of material. Most folks never fully appreciate how many times some pieces of wood have been handled; picked-up, moved, stacked, stored, then moved again…long before it's ever ready to become something, that piece of wood is like money sitting on floor.
Once something like a live-edge tabletop has been 'glued-up', hand-worked, edged and finished, those pieces of wood have probably been handled over a hundred times.
Long before electrical currents were flowing woodworkers used hand-planes, knives and chisels to work the edges on wooden furniture. Now days, with modern technology and the aide of electricity, putting an edge on wood is much less labor intensive, or less time consuming. That is, unless you are anything like me. I personally still prefer a hand-drawn rolled edge any day.
Look closely at the picture below and you will see a combination. The hand-drawn knifed edge leads into a machined-edge (angle grinder) at, and around the big knot.
Three Easy Ways To Edge Log Furniture
1. round-over with router bit
2. hand-drawn with draw knife
3. chamfered-edge using angle grinder or router.
When working on armrests and footrests (as seen below) I choose to use my angle grinder with a 50-80 grit sanding disc.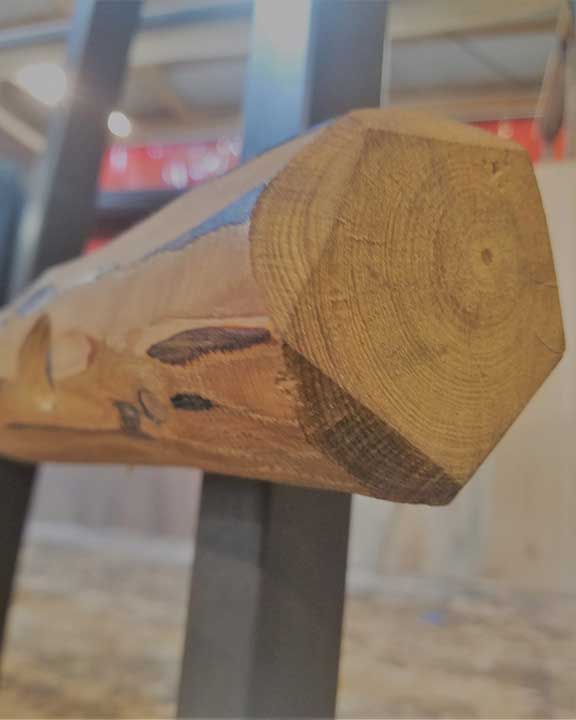 You can easily achieve this "hand-textured" edge shown below by engaging a wire wheel brush on your angle grinder. Try practicing "blending" textures on some cut-off pieces. You will find that using different gauge wire-wheels offers a range of textures.
Rounded-over and chamfered edges can both be achieved with a simple router and router bits. Each of these profiles is readily available is a variety of sizes ranging from 1/8″, 1/4″, up to 3/4″.
ATTENTION Log Furniture Builders! Learn valuable, time saving tips and tricks how-to edge log furniture in these videos.
Natural edge, or live-edge furniture is all about the curves. Learn how-to quickly make an "eyebrow cut" on the ends of your live-edge tables in the following video.
Watch How-to Make an Eyebrow Cut
Finish Edging Large Lumber