The Flared Leg Table is one of the most stable table designs you will ever find. There are several factors that contribute to achieve this rock solid table design. It comes down to the weight, gravity and basic concept of 'triangulation'.
In fabrication and general construction, the strongest shape used is the triangle.
The most important elements when framing any structure are the lateral braces…whether 'temporary' or permanent, these braces serve to support and stabilize the building in all directions, both during and after the construction is complete. Designing and building furniture frames is not really much different. You just want it all to be as solid as it can possibly be.
What is 'triangulation'?
Triangulation is most commonly used technique in frame structure to provide strength, rigidity and lateral support. Tower trusses are a good example of triangulated building technique. When a force is applied to a triangular frame, two of the members stretch the third one, making it tense. This in turn pulls on the other two members, making the structure rigid. Triangulation spreads the force between all three members of the triangle.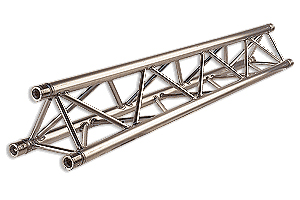 Flared Leg Table Variations
This design uses this same concept as triangulation to create the most solid base available. The flared rigid legs, solid wooden table slab and gravity make it all work.
Just watch the videos below and you will see for yourself.
Flared Leg Table Build – Part 1

When making custom tables, always start by determining the overall measurements and wood selection before cutting any metal parts. If you are planning on making a live-edge, or natural edge table, you will need to have all of your wood available to choose from to select the best for your 'glue-up'. Click here now to learn more about laminating tabletops.
Flared Leg Table Build – Part 2

Once you have determined the overall width of the tabletop the next step is to begin welding the actual flared metal legs for your table. If you are new to welding click here now and learn how to Mig Weld.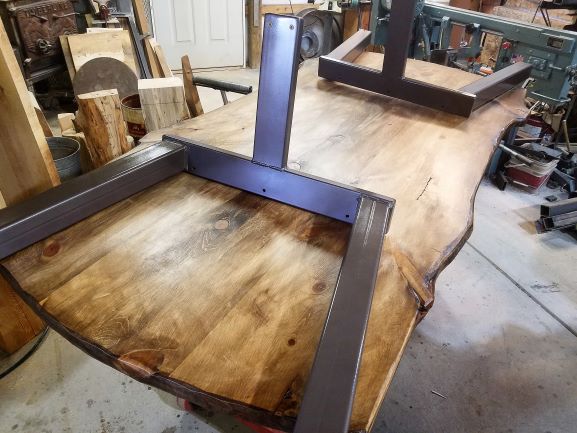 Use quality fasteners when assembling your new table.
Bonus Videos: Tips and Tricks to building beautiful, rustic live-edge log furniture!
Watch How-to Make an Eyebrow Cut

Radius – links
Watch How-to Finish the Finish

If you are ready to make your own log furniture be sure to check out and consider purchasing our one-of-a-kind video blueprints: