Carve Log Armrest
Congratulations!!! You have just finished sanding smooth your first log bench…So now you need a place to rest those weary arms. Now it's time to learn how to carve armrests, because this is where all your hard work really starts to come together.
…the first thing I wanted to make when I started making log furniture was a Log Rocking Chair. My focus was on making that log rock so when it came time to rest my arms it was as easy as adding some all-thread and drilling out some limbs.
If you are just getting started learning how to weld, click this link now to learn: How-to Mig Weld Log Furniture – A Complete Beginners Guide
If you already know how to weld, skip all that and check out: How-to Weld Armrests For Log Furniture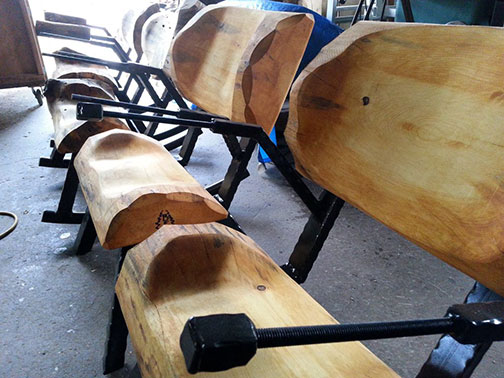 Log Furniture Waiting For Armrests
Carving Armrests
So now you have your metal frames welded up it's time to do the woodwork!
For the armrests you'll need some little logs, or limbs. I use branches and limbs cut off from the main logs. I always like to gather up a trailer load between 3 1/2″ to 4 1/2″ in diameter. Or, ask my buddy Michael over at Pikes Peak Forestry and Construction to bring me a truck load… I keep them in a cool dry place to dry naturally without heavy checking.
Watch How-To Carve Log Armrests

One of the easiest ways I know how to hold the limbs when carving is with the log clamp. Be sure to check it out in this article while you're here: How-to Make a Log Clamp
Behind The Scenes Video Below
Thanks for watching!