Build Bar Stools and Bar Chairs
Modern-rustic bar seating has always been one of the most popular forms of log furniture on the market. Spend the next few minutes watching the following videos and you will Learn How-to Build Bar Stools and Bar Chairs for fun and profit!
If you only knew just how many years, money, and "research" went into making these bar-stools and bar chairs … Let's just say it wasn't for the faint of heart. It was a one-way, dead-end, viscous downward circle…I was just lucky to get out alive!
Barstools and Bar Chairs
Colorado Rock-n-Logs, Inc. is proud to announce our one-of-a-kind, Rocky Mountain High Chairs and Bar Stools designed by artisan Mitchell Dillman
If you ask me I'd say, take two, for the road … they'll make more!
So How High is the Bar?
Bar tops, Bar counters, Bar-tables, Pub tables, just about anything made for standing at "Bar Height" is 42″. Using the same 'rule of thumb' of 12″ clearance between table top and seat top; Standard Bar Stools and Bar Chairs are 30″ tall.
Watch Another Round Bar Stool Build

Welding Bar Stools With Swivels

Short Bar Stools

When you make custom furniture you have the ability to make it just about any size needed. For short bar seating, maintain the standard dimensions for chairs of 16″ – 18″. Once the seat height of your bar stools or bar chair exceeds 18″ you will need to add the footrest.
Bar stools can easily be 're-sized' for use at just about any table or counter-top.
24″ inch tall bar-stools are the ideal height for most 35″ to 38″ kitchen counters.
The Log Bar Chair
Log Bar Chairs are smaller, taller, versions of log chairs incorporating a footrest for comfort at what would be floor height on a standard chair. Because of their size and weight, most Bar Chairs incorporate swivels to help ease getting in and out of the chair while seated at the bar.
Bar Stool Foot and Armrests – One Handed

Many times bar seating space is limited. It is for this reason that most bar seating is made smaller than standard chairs, with swivels to ease and assist access.
Welding Bar Chairs

Welding Bar Chair Swivels (Works on Bar Stools)

and now, Just One more for the road!
Delivering Log Furniture with Mitchell Dillman

ATTENTION Log Furniture Builders!!! 
When carving logs for multiple matching sets of log bar chairs and bar stools, always mark and maintain alignment of each log in respect to the other. When properly realigned, the finished set of High Chairs or Bar Stools will have offer optimal visual impact.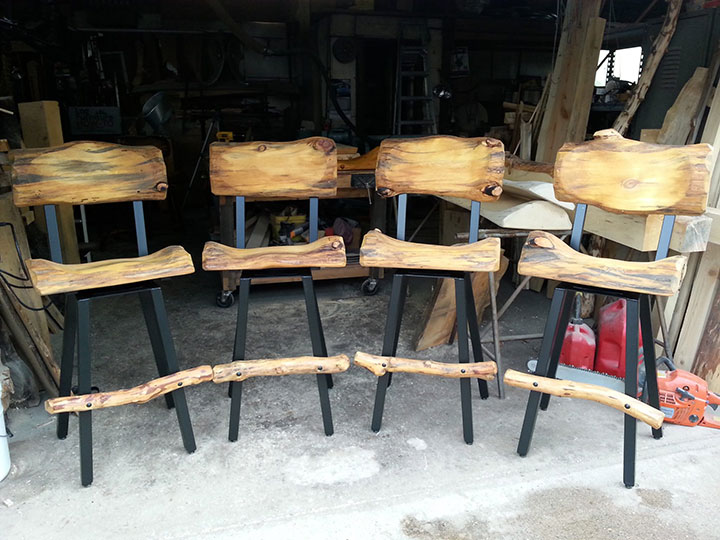 Okay then, so now that you know how to make bar stools and bar chairs it's time to make a matching table! Click this link now to Learn How-to Make "Modern-Rustic" Pub Tables