Ready to learn How-to build a log picnic table? What is a Picnic Table?
A picnic table, or picnic bench, is simply a table with benches (often attached), designed primarily for casual, outdoor dining. The term "picnic table" is most often associated with rectangular, slat style table made using a wooden A-frame structure with attached benches.
Now, just imagine that same table made from full-round logs and thick, live-edge wooden slabs. It's easy if you try! Watch and see How-To Build a Log Picnic Table in this short video below.

Throughout history various types of tables have been used for outdoor dining. The classic A-frame rectangular picnic table emerged in the United States in the early 20th century in campgrounds and local parks. The earliest similar table was described in 1903 and was based on the 18th-century sawbuck table; the most common modern design, known in initially as a "Lassen table", was first used in 1926.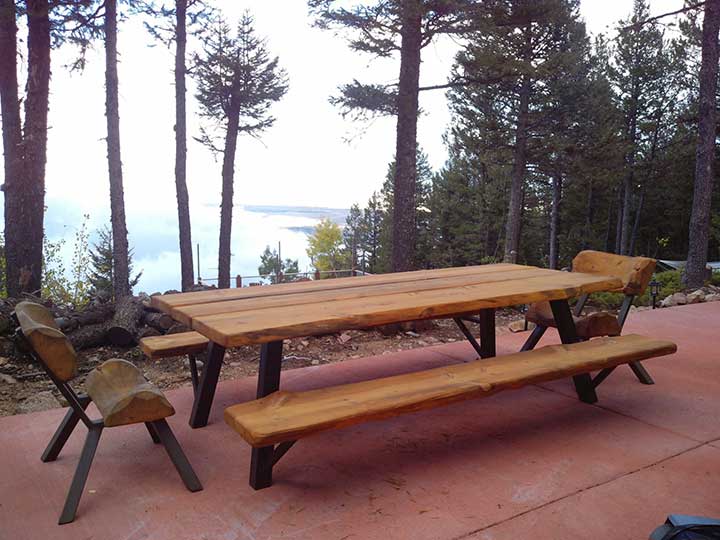 While the original, and most common material for picnic tables are wooden boards, they can be made from a great variety of materials, from split logs to concrete to recycled HDPE plastic. The frame, benches and framework may also be made from a variety of different materials.
Now that you know how to build a log table watch and see how we installed it.
While Full-Log Picnic tables like this can easily be crafted in variety of shapes, from squares to hexagons, it is this traditional rectangular shape picnic table that allows for easier accessibility in public settings.
The simple and informal design of picnic tables make them popular in parks and other public settings. Picnic tables can be used for a wide range of dining, educational, recreational and community-building purposes. Their popularity has grown in recent years do to a resurgence in local milling and "full-circle" woodworking projects like this one.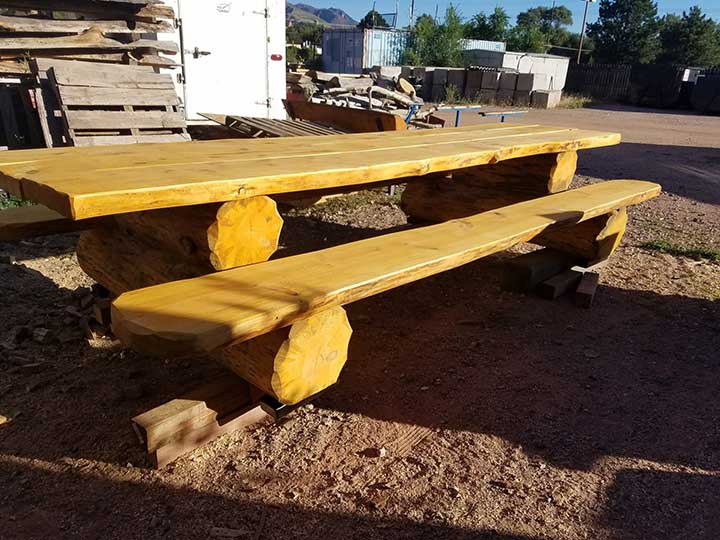 Special thanks to the City of Colorado Springs Department of Parks, Recreation and Cultural Services for a chance to be a part of this and other local parks and open spaces projects.
ATTENTION!!! The following videos contain valuable, time-saving information. If you plan to build a full-log picnic table you will want to take time now to watch and learn from these videos, and purchase the detailed angles and dimensions available in these down-loadable blueprints.
Hardware Prep for Log Picnic Table Build

Day 3 – Log Picnic Table Build (BTS)